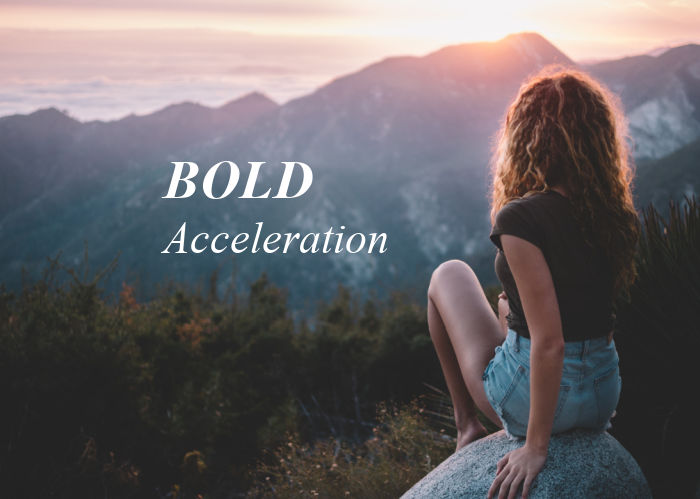 Bold Acceleration | August Monthly Blog
In the month of August, God is bringing swift turnarounds so that your hard places become a wide open field.  God is bringing about divine connections in order to strengthen the body of Christ. He is releasing faith for radical generosity, divine strategy to champion others, and solutions for meeting the needs of the disenfranchised. This month, draw close to the Holy Spirit and listen to His whispers. He will guide you as you take bold steps of faith and meet you in your courage.
Swift Turnarounds 
Recently, my Mom had to have emergency surgery.  The whole thing was quite sudden and alarming–even traumatic–and afterwards, she developed some very serious complications.  There were several days she was in critical condition and we needed a miracle.  Many people were praying for her during that time.  And  overnight she went from requiring 11 liters of oxygen to not needing oxygen at all.  It was a marked and sudden turnaround in her condition.  I knew it was the hand of God, and an answer to the faithful prayers of the saints contending for her health.  In the moment, it was a minute-by-minute battle as I stood in faith, believing the promises and words from the Lord.  At one point, one of her health care providers saw her dire situation and told me I had better prepare for her to die.  However, I refused to accept those words.  I was in the throes of battle and I could not afford any thought that wasn't rooted in truth and from the heart of God. After several obstacles, Mom defeated all the odds and expectations and is now home and thriving (in record time).  
Many others have recently experienced similar situations-where they were suddenly thrown onto the frontlines of a battle and it was everything they could do to maintain  a victorious mindset and simply believe in God.  Just like He did for us, God is bringing about swift turnarounds which will surprise the nay-sayers and reinvigorate the faithful ones contending on the frontlines.  2 Corinthians 4.8-9 says, "We are hard pressed on every side, but not crushed; perplexed, but not in despair; persecuted, but not abandoned; struck down, but not destroyed."
God is reminding His people that He is with them no matter what. 
He is highlighting where you are experiencing warfare and teaching you how to pray. He is answering your prayers and bringing a sudden turnaround so that your tough place becomes a wide open field.  Psalm 18:19 says, "He brought me into a spacious place, he rescued me because he delighted in me." It is a season of swift turnarounds.  If you have felt crushed, weighed down, or powerless to change things, then this word is for you.  
Remember God's promises to you. Ask those faithful ones around you to pray.  Stand in faith, believing God's word to you.  Worship.  Remain hopeful, and guard against words spoken against the situation.  Be diligent to reject curses and speak blessings.  Speak Scripture over your situation. Ask for help when you need it and try to get the rest your body needs.  
Connecting Hearts
The times we are living in can be so divisive if we aren't careful to guard against it.  Everywhere we look it feels like differences between us are being highlighted, broadcast, and even capitalized.  The enemy is doing his best to divide, alienate and separate us from one another.  God is moving powerfully to connect people's hearts and to strengthen connections.  Where we are going it will be necessary to stand strong together, trust and rely on one another.  This is a season of preparation, and deepening of relationships.  With so much going virtual and now church being as "easy" as turning on your computer, meeting people and actually connecting can be more challenging.  Something powerful happens when we are physically in the presence of one another.  Don't forsake gathering with fellow believers when you have an opportunity.  Relationships are being strengthened and going deeper that will add momentum & synergy to your relationship. Hebrews 10.24-25 states, "And let us consider how we may spur one another on toward love and good deeds,  not giving up meeting together, as some are in the habit of doing, but encouraging one another—and all the more as you see the Day approaching."  God is bringing people together to strengthen the body.  Some acquaintances will become close friends.  Friends will become spouses.  Good friends will become business partners.  And some that are not aligned or solidly connected in your life will fall away to make room for strategic, timely relationships.  
 If you have been hungry for community, relationships and even finding your "tribe," this word is for you.  It is also for those who have felt like they have a hard time connecting with people.  
 If this word resonates with you, be brave and go past your comfort zone.  Growth happens there!  Meet new people, and when you have an opportunity to physically gather, say yes!  God is bringing those that you need into your orbit.  Take a step of faith and watch what He does! 
Time to Sow
God is stirring up the hearts of His people to be intentional with their giving during this time.  God is shining a light on corruption, and as this is being exposed and new things come to light, those that are generous in the kingdom of God want to be strategic in what they sow into.  Watch as God works on your heart to highlight certain businesses or ministries that are doing kingdom work.  He may be inviting you to buy from them (businesses) or sow into them (ministries).  Think outside the box and be selective, strategic and intentional with where you give.  God will bless your generosity, amplifying it and  pouring it out on you and the recipient of your gift! 2 Corinthians 9.6 says, "Whoever sows sparingly will also reap sparingly, and whoever sows generously will also reap generously." Therefore be generous! 
If God is highlighting kingdom business and ministries to you, pay attention! shifting something in their heart and they want to be intentional with their money.   He will  give you a revelation about where to give and who to sow into. 
Watch as God brings businesses and ministries across your path.  By sowing into these ministries and businesses you will be advancing the kingdom.  God will bless your gift and you for giving!  If you really believe in what they do, be intentional to tell others about them! 
Championing Others
Throughout the Bible, God's heart to champion those who cannot help themselves is shown consistently again and again.  They may be people in poverty; those who are widowed; children or orphaned children; people battling illness or disability;  those who've been trafficked or abused; or anyone else marginalized, wounded, or depressed.  As believers, we carry the heart of our father and as He moves us it is our responsibility and privilege to fill that gap for them.  God is raising up those that will answer his call to advocate for those who cannot stand for themselves. If you are a parent, this role may feel more natural to you, but all believers can advocate for someone else.  See if God has already placed one of these groups of people on your heart.  Do you have a connection to access them?  If not, pray about what God wants you to do and ask Him to open a door for you.  
Proverbs 31:8-9 says, "But you are to be a king who speaks up on behalf of the disenfranchised and pleads for the legal rights of the defenseless and those who are dying. Be a righteous king, judging on behalf of the poor and interceding for those most in need." God is raising up warriors to fight for those who cannot fight for themselves.  He is releasing strategy to believers so that His body may meet the needs of those in need.  He is quickening connections and highlighting ministries that are aligned with different groups of people.  This word is for you if you've been burdened by a certain group in need, but have yet to step out and help them.  Your heart may have been stirred recently by a story you heard or an account of a friend who stepped in the gap to advocate for someone who couldn't fight for themselves.  Listen to what Holy Spirit is speaking to you.  Pay attention to the group of people or the specific people He is highlighting to you, and what He's telling you to do.  It might be as practical as taking your neighbor to a doctor's appointment or buying groceries for someone.  Or it could mean serving an orphanage or an inner healing ministry.  We all can help someone, so if you don't know who that is for you, ask the Holy Spirit to show you.  Who can you intercede for? Take time to intercede for them!
©2022 All Rights Reserved
Written by Anne E. Ballard     
At The Crowning Jewels, it's our desire and our mission to bring encouragement, to build others up, and to bring comfort to people's lives (1 Corinthians 14.3). Each month our founder, Anne, asks the Lord what He's doing in the coming month and for any words of encouragement He might have for His people. We believe that prophetic words need to be encouraging and edifying. Moreover, with a corporate prophetic word, not all words are applicable to all people. If our words bless you, please take hold of them and apply them in your own life. If it's not specific to you, please pass it on to someone else who might be blessed.
As always, the prophetic is a free gift from heaven and will always be something we freely share. As a prophetic business, it's our mission to bring encouragement and edification to people through the free gift of prophecy, with our product being jewelry.
DECLARATIONS
We at The Crowning Jewels believe in the absolute, transformational power of declarations. We know that truth comes by hearing (Romans 10.17), and speaking truth is an active way for us to renew our minds (Romans 12.2). We invite you to partner with what God is doing and say these declarations for the remainder of the month. We would love to hear what God does! Please email us your testimony at hello@thecrowningjewels.com.
1. God is bringing about swift and divine turnarounds in my life.
2. God is orchestrating divine connections in my life–I am meeting the right people at the right time!
3. I am generous and give into the Kingdom of God.
4. I champion those around me and fight for what I believe in.
5. God is delivering me from areas of turmoil and oppression in my life. 
Each month we design two limited edition pieces of jewelry, only available for that month, handmade with words and charms that reflect the monthly prophetic word. If this word resonates with you and you'd like to wear a reminder of its truths, click the pieces below to shop!