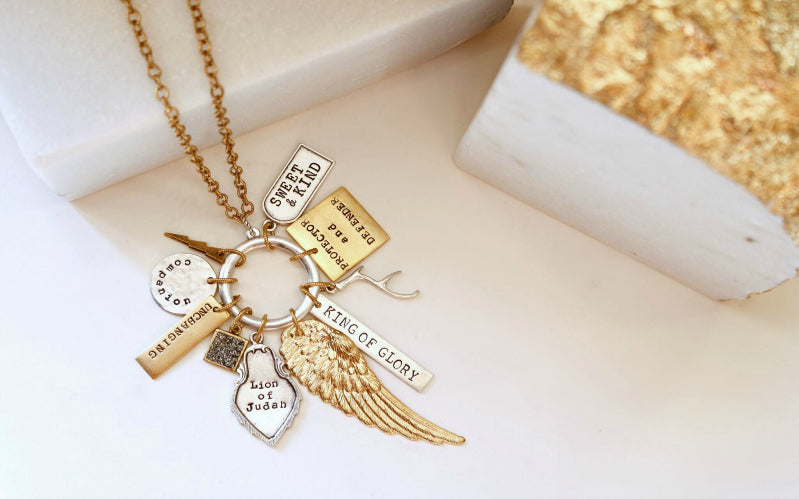 written in 2017, this necklace is a treasured part of our history but is no longer available for sale
Recently we (as a team) were reading the story of the widow with the oil and the flour from 1 Kings 17.7-16.  We were struck by how she had very little and was in need herself, but she gave generously what she had to Elijah when he asked.  The instructions were for her to use what she had, and make a cake first for Elijah, and then for her and her son, and that the flour and oil would not run out for them until there was again rain in the land. 
In the same vein, we decided to make a necklace for Jesus; a cake for Him.  It honestly felt a little bit preposterous, as our jewelry is about identity and who WE are in God, but Jesus needs no reminder of who He is.  But we felt the pleasure of the Lord as we sat down to design it.  We talked about who God has been to us in this season.  He has been our Companion and powerful.  We greatly value his Unchanging nature, and that He is our Redeemer.  We revel in his fierce protection of us as the Lion of Judah, and we appreciate that He is always keeping us safe.  He is the King of Glory, which feels a particularly appropriate reminder of Him during this time.  He is our greatest Champion, and ever our Protector and Defender.  And recently, in a very personal story, I've been reminded that He is always sweet and kind.  When we completed it we realized that this necklace is a reminder to US of who HE is. 
For when times are tough, and circumstances are stretching you, when you feel as though things couldn't get any worse, and you might not make it through, THAT is the perfect time to reflect on who Jesus is to you.  He is always with you, and He means different things to us in different seasons.  His nature is unchanging, and the facets of who He is are limitless.  I love that as we face different things, we are blessed to see beautiful new parts of His being in a way we hadn't yet experienced.  Life is a glorious journey into knowing more of Him.  I'm realizing that there are days that I need to be reminded more of who He is, than who I am. 
We hung the necklace over the door to our shop, as a prophetic statement that He is all those things to all who enter and leave.  Our heart's desire is that all might know & be changed by the depth of His love, and be transformed by the warmth of His gaze. 
© 2017 All Rights Reserved
Written by Anne E. Ballard