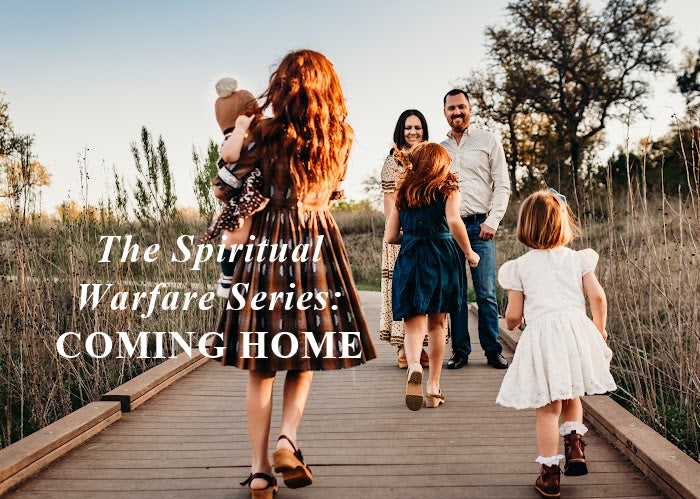 The Spiritual Warfare Series: Coming Home
As believers, we are called to live a life of faith. In addition, we are to partner with God in bringing heaven to earth. However, we live in a fallen world and the spiritual battlefield is real. The powers of light and darkness are at war and we have a role to play in seeing the Kingdom of God come on earth. It is time to stand up and fight. As believers, we have been given authority from God to release heaven on earth. It's time for us to align with heaven's blueprint for this time and war with our prayers and declarations. The Bible tells us that our prayers commission angels to carry out God's plans. Therefore, pray!! 
Our Spiritual Warfare Series is a collection of blogs to remind you of your spiritual authority and the truth of God's Word. In addition, we've designed jewelry around these themes. Read these blogs and wear these pieces as a reminder to pray and partner with Heaven. It's time to stand up and fight for truth, for righteousness, and for justice. 
Coming Home
This son of mine was dead and is alive again; he was lost and is found.
Luke 15.24
There are few things more painful in life than when a loved one has walked away from the faith or you're experiencing relational disconnection. This can cause your heart to break and feelings of deep pain and loss. Maybe there's been a severing in relationship. You long to see your son or daughter return to the Lord and come home. God sees this desire of your heart and it's His desire as well. 
Do not give into fear or hopelessness. Don't listen to the voices of discouragement and disappointment, rather stand firm on the hope that your loved one will return to the Lord. Stand firm on God's faithfulness and His nature to draw His children back to Himself. Scripture says that God leaves the ninety-nine to find the one. Likewise, He is as passionate as seeing your son, daughter, brother, sister, or loved one return to the Lord. He cares about those whom you love. So trust Him. Now is the time to pray with joy and rejoicing and expect your loved one to come home! 
Prayer:
Father, I thank you that you are a good father who loves his children. You care deeply about your kids returning home. Thank you for healing and restoration in relationships, for restoring wounded and broken places, and for pouring out your extravagant love on my children. 
God, I praise you that you know the end from the beginning and you call your sons and daughters home. You can turn hearts back to you and I praise you for the coming home of my loved ones! Give them a fresh encounter with you and your goodness! 
I surrender control and I trust you and I choose to love unconditionally as you do.
Click below to check out our "Coming Home" Necklace: