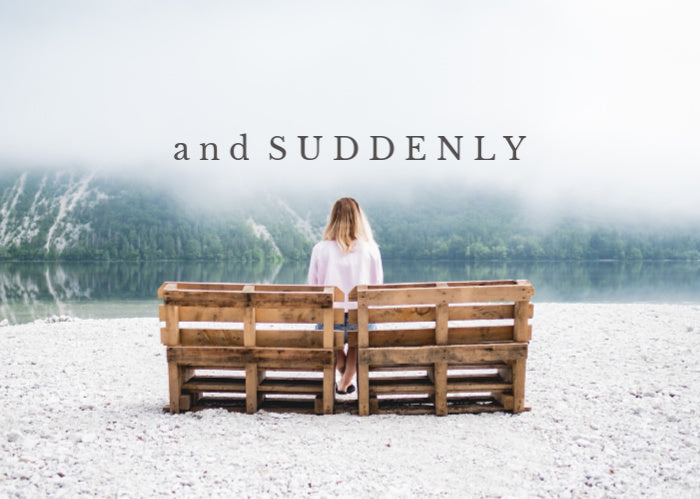 And Suddenly | November Monthly Blog
This month, God is revealing Himself to you as Your Great Reward. Major transitions will happen suddenly, but He is depositing abundant grace and ease even for the transitions that don't seem to be beneficial at first. He is clearing away what is unnecessary for the future to make a major shift into what He's doing now! Watch for God to speak divine revelation to and through children, and be intentional about hearing from Him through their voices. In the areas that you have experienced loss and brokenness, He is creating beauty from the ashes and making all things new.
THE GREAT REWARD
"After this, the word of the LORD came to Abram in a vision: "Do not be afraid, Abram. I am your shield, your very great reward." Genesis 15.1

This month God is reminding you, just like He did Abram, that He is your Great Reward.  One of the most beautiful parts of following God is being able to partake in relationship with Him.  Our connection to Him and the privilege of doing every part of life with Him is a blessing, and one of the greatest rewards that we have.  He longs to know us and to be known by us. This month, ask Him to reveal Himself to you in a new way and to show you how He is your great reward.  
AND SUDDENLY 
This month, God is allowing major transitions to happen suddenly.  Throughout the Bible there are many instances where big things happened suddenly and without warning.  God's timing is very intentional; sometimes it seems to take forever, and other times He moves with an "and suddenly."  In November, God is clearing out the debris and the things that are unnecessary for the future in order to make a major shift into what He is doing now.  The things that God is clearing away may feel like good and necessary things, not like debris at all, but He is aware of what is holding you back. As these unexpected "and suddenly" moments happen, they will be accompanied by grace to weather the change.  Don't judge the change even though it might not seem good at first and though it may come quite out of the blue. Upon talking with God about it, you will experience peace and hope again. You'll be able to clearly see God's hand at work through all of it, and you'll be able to tap into grace and ease for the transition.  Processing the change with God is paramount in order to emerge in a healthy place. Ask Him faith-filled questions. For example, ask, "I know that You're at work here and that Your hand is in this, but could You show me what You're doing?" This is not the time to place requirements on God, but to be open-handed as He orchestrates each change in your life.  It may feel unsettling (like a plane that's about to take off), but things will smooth out as you hold on. 
HIDDEN TREASURES                        
"And he said: 'Truly I tell you, unless you change and become like little children, you will never enter the kingdom of heaven.'"  Matthew 18.3
God is actively speaking to and through children this month.  They may begin to have dreams, visions, or just say aloud the words they think or hear.  Pay attention to what they say, as there's insight and revelation available through them.  Their words are pure, not mired down by fear, bias or past wounds. You may not recognize it right away as a word from the Lord, as they may not preface it with "Jesus told me," but their connection to God is so natural and honest that the revelation will just pour out of them.  Pay attention when they're speaking to times when their words feel weighty, or when you feel the Presence of God as they speak. Children have the same Holy Spirit that adults do, and God is glorified when you honor the Holy Spirit inside of them.
BEAUTY FROM ASHES
"The Spirit of the Lord God is upon Me,
Because the Lord has anointed Me
To preach good tidings to the poor;
He has sent Me to [a]heal the brokenhearted,
To proclaim liberty to the captives,
And the opening of the prison to those who are bound;
2 To proclaim the acceptable year of the Lord,
And the day of vengeance of our God;
To comfort all who mourn,
3 To console those who mourn in Zion,
To give them beauty for ashes,
The oil of joy for mourning,
The garment of praise for the spirit of heaviness;
That they may be called trees of righteousness,
The planting of the Lord, that He may be glorified."
Isaiah 61.1-3  NKJV

Our God is a God of the impossible.  It is His nature to create literal beauty out of ashes, and He does this without even trying.  His nature is restoration and redemption, and His heart is that all of His children would know truth and walk in wholeness.  The way that He forgives us is radical and complete. His transforming love is profound. There are some that have disqualified themselves from God's grace, but He wants to remind us this month that nothing we have ever done can make us unredeemable.  God's grace, love, and forgiveness are far-reaching and all-encompassing. He will take the ashes of your broken relationships, your poor choices, and your losses, and turn them into something beautiful. We must surrender our ashes to Him so that there's an opportunity for Him to step in and do what He does.
Now is the time to give Him what you're holding onto so that he can resurrect what you thought was dead.  Just like Ezekiel spoke life to dry bones and they lived (Ezekiel 37), God wants to create life and beauty in your life as well. Have you disqualified yourself from His restoration? Have you deemed your mistakes too great? Your destruction too vast? He hasn't excluded you or ruled you out. Give Him your mess, your brokenness, and your loss and watch as He breathes new life into each area and creates beauty from your ashes.  
CHOOSE LIFE
"Whatever you do, work at it with all your heart, as working for the Lord, not for human masters, since you know that you will receive an inheritance from the Lord as a reward.  It is the Lord Christ you are serving." Colossians 3.23

Now is a key time to evaluate your world and look closely at the things that are taking up space in your head, your heart, and your time.  You are being given an opportunity to decide whether there's still value in each area. It's a "fish-or-cut-bait" kind of time. Think about your job, commitments, and relationships. This is a season of transition for many.  Assess what you're committed to and decide if it's time to be done or if it's time to put more into it and to work at it with all your heart. The cardiac defibrillator is used to revive the heart when it has stopped, and it only works at just the right moment.  God is breathing new life on parts of your life and leading you to step away from others. Allow God to revive your heart if you decide to stay, or to give you the grace to let go. Peace will guide you. You will have greater agility and clarity to move forward by letting go of the things that no longer bring you life.  
We at The Crowning Jewels believe in the absolute, transformational power of declarations.  We know that truth comes by hearing (Romans 10.17), and speaking truth is an active way for us to renew our minds (Romans 12.2). We also believe that in speaking forth these declarations, you will change your life.  We invite you to partner with what God is doing and say these declarations for the remainder of the month. We would love to hear what God does! Please email us your testimony at tellyourstory@thecrowningjewels.com.

DECLARATIONS
God is my Great Reward.

God's timing is perfect and there is grace for quick transitions.

I value the revelation that comes through children.

God is bringing beauty from the ashes in my life.

I am in sync with God's timing and I make powerful decisions about what brings me life.
Wear November's limited edition necklaces, designed with these truths in mind. Click here to shop.

©2018 All Rights Reserved
Written by Anne E. Ballard